Timpview High School


Class Of 1982
In Memory
Lynnanne Taylor (Wilson)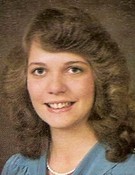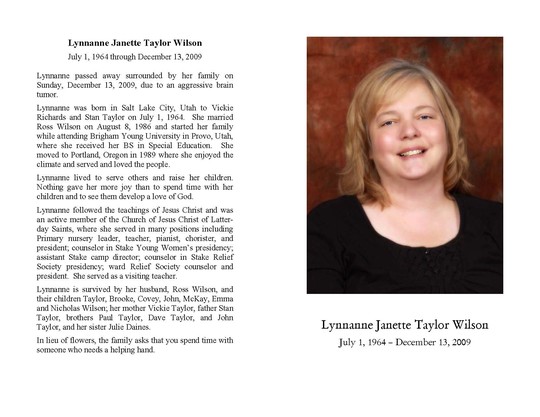 Lynnanne Janette Taylor Wilson

July 1, 1964 through December 13, 2009

Lynnanne passed away surrounded by her family on Sunday, December 13, 2009 due to an aggressive brain tumor.

Lynnanne was born in Salt Lake City, Utah to Vickie Richards and Stan Taylor on July 1, 1964. She married Ross Wilson on August 8, 1986 and started her family while attending Brigham Young University in Provo, Utah. She moved to Portland, Oregon in 1989 where she enjoyed the climate and served and loved the people.

Lynnanne lived to serve others and raise her children. Nothing gave her more joy than to spend time with her children and to see them develop a love of God.

Lynnanne followed the teachings of Jesus Christ and was an active member of the Church of Jesus Christ of Latter-day Saints, where she served in many positions including Primary nursery leader, teacher, pianist, chorister, and president; counselor in Stake Young Women's presidency; assistant Stake camp director; counselor in Stake Relief Society presidency; ward Relief Society counselor and president. She served as a visiting teacher.

Lynnanne is survived by her husband, Ross Wilson, and their children Taylor, Brooke, Covey, John, McKay, Emma and Nicholas Wilson; her mother Vickie Taylor, father Stan Taylor, brothers Paul Taylor, Dave Taylor, and John Taylor, and her sister Julie Daines.