Timpview High School


Class Of 1982
In Memory
Jacqueline Quinn (Wood)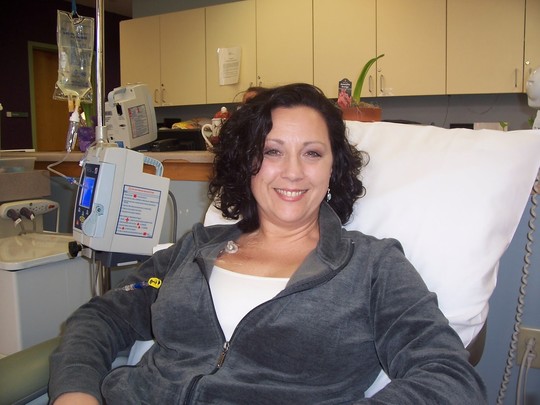 Our beloved Jackie Quinn Wood had an extraordinary 51st birthday celebration, with loved ones surrounding her. And when she was gone, the curl in her smile let everyone on this side know the celebration was just beginning on the other side.
Jackie's determination and courage to live large started long before her 2010 ovarian cancer diagnosis. In 1982, she left her Timpview fans (who revered her as the most beautiful, down-to-earth homecoming queen ever) and moved to Bel Air to nanny the son of two grammy-award winning composers while taking acting classes. She learned a lot about acting that she rarely shared (but when she did, wow!!), opting instead to teach preschool for many years.
In 1996, Jackie reunited with Joseph ("Joey") Wood, her first crush in 1976. They got married in February 1997, and she inherited two great kids in the process: Joseph and Jamie. Together they built a loving, supportive partnership that deepened over time.
Jackie was an artist: her media included painting, interior decorating, and writing. When her health allowed, Jackie composed a funny, tell-it-like-it-is blog, which resonated with readers who needed a boost from a thoughtful storyteller. She also overcame insecurities about dyslexia to write a compelling semi-autobiographical novel now in the final stages of edits.
Jackie is survived by Joey—to whom she was sealed this year in the Oquirrh Mountain LDS temple—stepchildren Joseph and Jamie; three sisters, Leigh Copeland (Barry), Diane Stallings (Jay), Cindy Westoby (Craig), many nieces and nephews, and Mookie the cat.
She is preceded in death by the parents, Burl Rayden and Bennie Lou Ausmus Quinn, whose southern heritage endowed her with her trademark hospitality.
Funeral services will be held Tuesday, September 1, at the Riverton Farms ward, 12852 S. 3200 W., Riverton. A viewing will be held from 10 to 10:45 am prior to the services at the ward. Interment will follow at East Lawn Memorial Hills, in Provo, Utah.
Source - http://larkinmortuary.com/obituary/jacqueline-peggy-quinn-wood/